XX International Symposium of Electrical Engineering
SIE 2023
Application for the management of measurements of blood glucose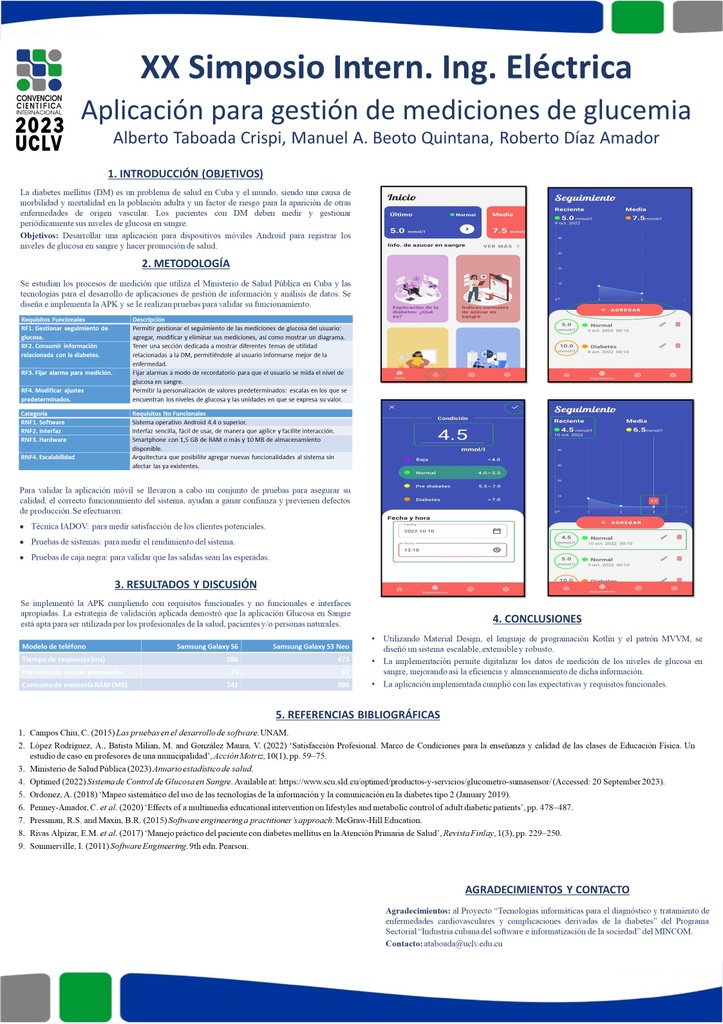 Abstract: Problem: Diabetes mellitus (DM) is a health problem in Cuba and the world,
being a cause of morbidity and mortality in the adult population and a risk factor for the
appearance of other diseases of vascular origin. Patients with DM should periodically
measure and manage their blood glucose levels. Objectives: To develop an application
for Android mobile devices to record blood glucose levels and promote health.
Methodology: The measurement processes used by the Ministry of Public Health in Cuba
and the technologies for the development of information management and data analysis
applications are studied. The APK is designed and implemented and tests are carried out
to validate its operation. Results and discussion: The APK was implemented in
compliance with functional and non-functional requirements and appropriate interfaces.
The applied validation strategy demonstrated that the Blood Glucose application is
suitable for use by health professionals, patients and/or natural persons. Conclusions:
Using Material Design, the Kotlin programming language and the MVVM pattern, a
scalable, extensible and robust system was designed. The implementation allows the
digitization of blood glucose measurement data, thus improving the efficiency and storage
of such information. The implemented application met the expectations and functional
requirements.
Resumen: Problemática: La diabetes mellitus (DM) es un problema de salud en Cuba y
el mundo, siendo una causa de morbilidad y mortalidad en la población adulta y un factor
de riesgo para la aparición de otras enfermedades de origen vascular. Los pacientes con
DM deben medir y gestionar periódicamente sus niveles de glucosa en sangre. Objetivos:
Desarrollar una aplicación para dispositivos móviles Android para registrar los niveles de
glucosa en sangre y hacer promoción de salud. Metodología: Se estudian los procesos de
medición que utiliza el Ministerio de Salud Pública en Cuba y las tecnologías para el
desarrollo de aplicaciones de gestión de información y análisis de datos. Se diseña e
implementa la APK y se le realizan pruebas para validar su funcionamiento. Resultados
y discusión: Se implementó la APK cumpliendo con requisitos funcionales y no
funcionales e interfaces apropiadas. La estrategia de validación aplicada demostró que la
aplicación Glucosa en Sangre está apta para ser utilizada por los profesionales de la salud,
pacientes y/o personas naturales. Conclusiones: Utilizando Material Design, el lenguaje
de programación Kotlin y el patrón MVVM, se diseñó un sistema escalable, extensible y
robusto. La implementación permite digitalizar los datos de medición de los niveles de
glucosa en sangre, mejorando así la eficiencia y almacenamiento de dicha información.
La aplicación implementada cumplió con las expectativas y requisitos funcionales.
About The Speaker Ph. D. Alberto Taboada Crispi
UCLV