19th International Symposium of Electrical Engineering
SIE 2021
Critical Review of Bone Suppression Methods in Chest X-ray Images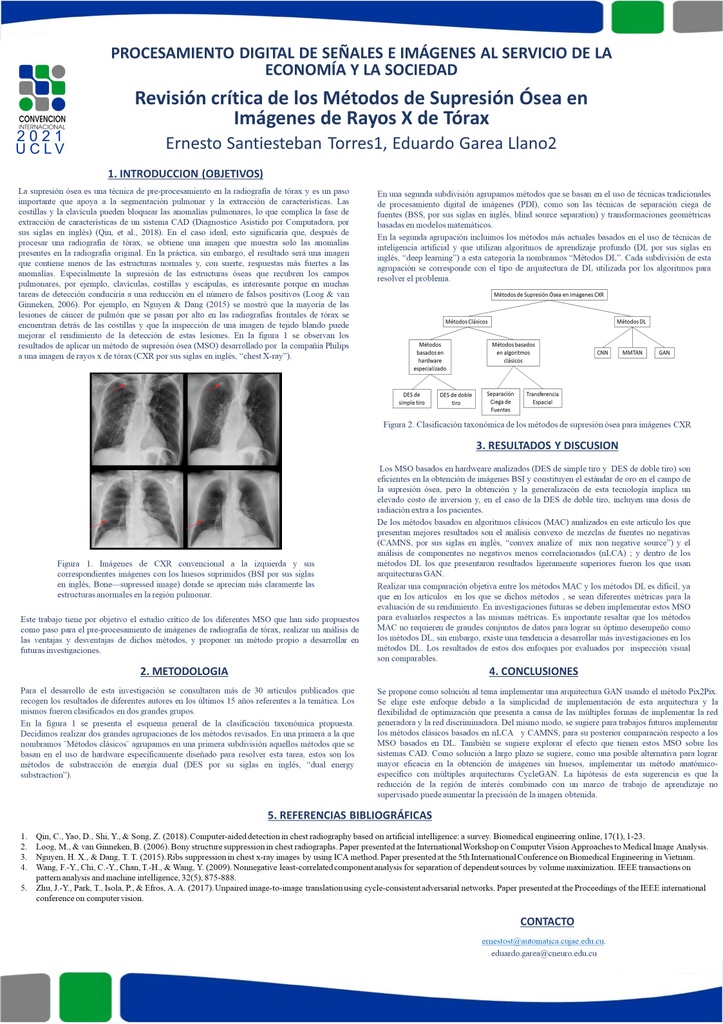 Abstract
• Problematic: The examination of chest X-ray images is a method of evaluating the degree of effectiveness of the protocols applied to COVID-19 patients in serious or critical condition. An element that significantly interferes in the effectiveness of these examinations is the presence in the images of the bones that interfere in the correct detection and evaluation of the lesions caused by the disease.
• Objective (s): The objective of the work is the study of Bone Suppression Methods (MSO) that can be used as a step for the pre-processing of chest radiography images.
• Methodology: The methodology used was based on the search, selection, review and analysis of the most current works published on the subject.
• Results and discussion: The most current works published on the subject were analyzed, from which the most representative ones were selected, which allowed a taxonomic classification of them and on this basis to propose a solution strategy based on the most convenient conditions in in terms of costs and effectiveness of the analyzed methods.
• Conclusions: An analysis of the role of bone suppression was carried out to improve the efficiency of the diagnosis. The metrics used to measure MSO performance were analyzed and a taxonomic classification of the studied methods was presented. A solution proposal was made on the unsupervised learning approach, which allows improving the diagnostic performance of both radiologists and automated systems.
Resumen
• Problemática: El examen de imágenes de radiografía de tórax es un método de evaluación del grado de efectividad de los protocolos aplicados a pacientes de COVID-19 en estado grave o crítico. Un elemento que influye significativamente en la efectividad de estos exámenes es la presencia en las imágenes de los huesos que interfieren en la correcta detección y evaluación de las lesiones provocadas por la enfermedad.
• Objetivo(s): El trabajo tiene por objetivo el estudio critico de los Métodos de Supresión Ósea (MSO) que han sido propuestos como paso para el pre-procesamiento de imágenes de radiografía de tórax.
• Metodología: La metodología empleada se basó en la búsqueda, selección, revisión y análisis de los trabajos más actuales publicados en la temática.
• Resultados y discusión: Se analizaron los trabajos más representativos lo que permitió proponer una clasificación taxonómica de los métodos estudiados y sobre esta base proponer una posible estrategia de solución a partir de las condiciones más convenientes en cuanto a costos y eficacia y las tendencias más actuales basadas en el uso de técnicas de inteligencia artificial.
• Conclusiones: Se realizó un análisis del papel de la supresión ósea para mejorar la eficacia del diagnóstico. Se presentó una clasificación taxonómica de los métodos estudiados. Se realizó una propuesta de posible solución sobre el enfoque de aprendizaje no supervisado, en aras de mejorar el desempeño del diagnóstico tanto de los radiólogos como de sistemas automatizados.
About The Speaker Dr. Eduardo Garea Llano
Centro de Neurociencias de Cuba