19th International Symposium of Electrical Engineering
SIE 2021
Sensing and control module for radio frequency power amplifiers.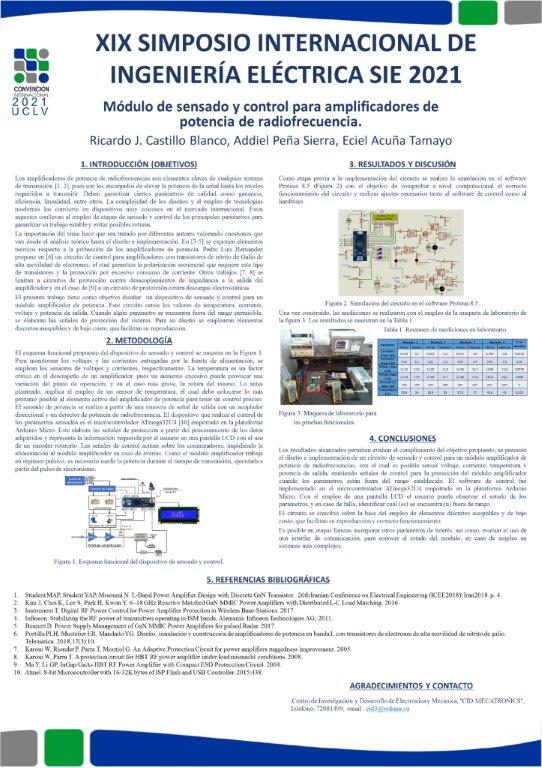 Abstract
Radio frequency power amplifiers are very expensive devices, which makes necessary to design stages to control their main parameters. Among the most distinctive variables to control are: temperature, power supply voltages, current and input signal over excitation, the timely control of these parameters can prevent deformation in the output signal and/or brakes that force to change the amplifier stage. In the present work, the design of a control device for a radio frequency pulsed power amplifier cascade is exposed. The microcontroller ATmega32U4 embedded in the Arduino Micro platform was used. This device allows to determine the value of the parameters temperature, current, voltage, output power and efficiency; data collected are processed and such case parameters meet out of range values the device automatically protects the amplifier stage. The proposed design has a user interface that allows to represent real-time the information on 16x2 LCD, these measures can be accessed through a rotatory scrolling by different navigation menus. The implemented control algorithm can easily adapt with few changes to other devices and same designation y being based on microprocessor can migrate to other platforms.

Resumen
Los amplificadores de potencia de radiofrecuencia son dispositivos muy costosos, lo que hace necesario el diseño de etapas para el control de sus principales parámetros. Entre las variables más distintivas a controlar se encuentran: temperatura, voltajes de la fuente de alimentación, corriente y sobreexcitación de señal de entrada. El control oportuno de estos parámetros puede prevenir deformaciones en la señal de salida y/o roturas que obliguen al cambio de la etapa de amplificación. En el presente trabajo se expone el diseño de un dispositivo de control para un módulo amplificador de potencia que opera en régimen pulsivo. En su diseño se empleó el microcontrolador ATmega32U4 empotrado en la plataforma Arduino Micro. Este permite determinar los valores de temperatura, corriente, voltaje, potencia de salida y eficiencia; lo datos son procesados y en caso de que los parámetros estén fuera del rango permisible elabora señales de protección. Cuenta con una interfaz de usuario para visualizar los valores en tiempo real en una pantalla LCD 16x2, los cuales pueden ser accedidos a través de un encoder rotatorio que permite desplazarse por los diferentes menús de navegación en la pantalla. El algoritmo de control implementado puede ser adaptado con mínimos cambios a otros dispositivos de igual designación y al estar basado en el empleo de un microcontrolador permite ser migrado a otras plataformas.

About The Speaker Ricardo Jesús Castillo Blanco
CID MECATRONICS